Hello, I am a board certified naturopathic doctor who believes in preventative care rather than surgeries and drugs.  I am also a pastor with a church in Queens New York. My team and I are on a mission to inspire and teach people to live better quality enriched lives by taking better care of their bodies, their minds, their finances and to have a deeper spiritual walk with the Most High.
We love serving our community's youth as well as the seniors, the developmentally disabled, highly functioning individuals with autism, and all people who are determined to soar and to accomplish great things and optimal health by a change to their lifestyle and their health… naturally.
I've been on this journey now since 2006. I started as a preacher's wife, he died and I have the 'joy' of continuing the church. It was a daunting task and I ran from it.. Who wouldn't? I ran to Poughkeepsie NY, from Brooklyn, and made the mistake of going to a church their in Poughkeepsie, where the preacher's sermon was about the eye of the Lord following you wherever you go and that you could not get away. I felt like Jonah.
So I went back and continued the ministry. At first it was a huge mess. I backslid, I cried, I couldn't do it alone. Through it all God kept me. There were trials where I was dragged through the mud, literally, see my first book, The Last Castle in Brooklyn.
After much tribulation, I started winning the battles, but only when I decided to follow Jesus and not turn back. I started writing more books and I eventually moved from Brooklyn into Queens, NY, where my media career took off and I met and greeted the Obamas at the White House. I saw the favor of God on my life and was encouraged to continue the ministry through publishing a community magazine, Around Town magazine.
Many more doors were opened for me and my team. We were given access to prime real estate to make a community center. We served the needs of the community through computer classes, tutoring for kids, help and classes for autistic youth and a slew of events that inspired, uplifted, educated and nourished the community. That building was sold to make way for a hotel and we were out of a building. While waiting for God's next move, I grew tired of so many people dying of cancer and diabetes, getting their body parts cut off and I decided to study botanicals and herbs and natural medicine. When I graduated, I opened up a health food store and juice bar, Mother Earth Juice Bar & Health Foods Cafe.
Then I opened up the nation's first church and wellness center at Inspire New York. We offer spiritual growth classes, preventative medicine, steam therapy detox, foot spa detox, pH balance and Iridology.  We have classes for children and adults, African drumming, piano lessons and praise dancing lessons.
In addition, I started an organization to improve the quality of lives for residents, children and local businesses. That organization is called the SouthEast Queens Chamber of Commerce.. We put on special events that enrich the community. Currently, we are embarking on transforming the community with holiday lights along 'forgotten, dark' corridors such as Sutphin Blvd, Guy Brewer Blvd and South Road. We hope you would join the movement. Thank you.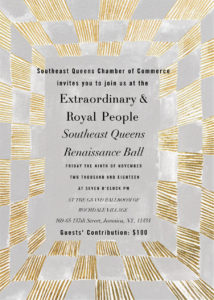 Much Love,
Dr. R. Simone Lord